It has been speculated that my husband, Matthew Barrett Cole, cannot hold a baby. Lies! I have proof:
Here we find the MBC in his natural habitat. The little one in his arms is Jack Harvey Byrd, our favorite diaper wearer.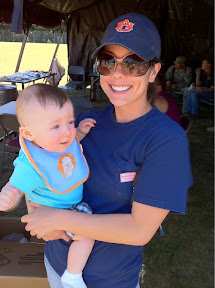 And this is me, in my oversized sunglasses and classy headwear, hogging Jack. I'm very good at this. He and his mommy and daddy are about to move to Ft. Hood. Tear :(
We love the Byrds and we will miss them (especially when Jack leaves us surprises at FRG events, wink wink Brooke).
- Posted using BlogPress from my iPhone