Imagine me singing the title of this post, which is one of my favorite U2 songs. The sun is still shining and it's 5:40, a hopeful reminder that Spring is just around the corner.
The sun has been out all day, and I couldn't help but get outside. It started this morning as I tidied up the compost and swept off the back porch. Patton decided that wasn't long enough, so we played soccer for a while.
After lunch, I had to find another excuse to get outdoors, so Patton and I went out.
We started out on a path that we've taken with Matt before, out between farmland, or as my husband likes to call them, "crop fields".
Patton loves where we live! There are trails all over the place. And on days like this, you'll pass many locals who also got the itch to get out.
We walked various trails for about an hour; it was fun to find all the paths in between fields!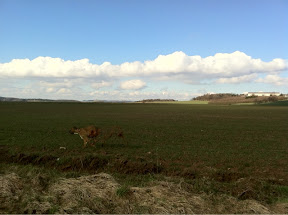 He loves to run through the fields. Thank goodness they are barren right now.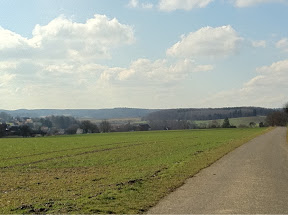 I got a picture of Matt wearing a KU shirt that I bought him in Lawrence. See Eryn, we do wear Kansas stuff!!
I hope you're having an equally beautiful day!
- Posted using BlogPress from my iPhone