This weekend our friend Sam came into town. He lives in Bremerhaven, a few hours North of here on the North Sea. We met at Fort Lee when Matt was in BOLC, and it was awesome getting to see another familiar face. That's the second week in a row now, we are on a roll!
The entire weekend Sam was whining about Italian food. Since we could only find a Chinese restaurant open yesterday for lunch (Germany is not really known for it's Asian cuisine), we decided to cook at the house for dinner. Since Sam was being a little baby, we did eggplant parmesan. Plus it's my favorite Italian dish :)
We just cut eggplant in discs, sprinkled them with salt and covered them with towels for 30 minutes to remove access salt. Then we washed off the salt, patted them dry, and dipped them in egg whites, then breadcrumbs. Bake at 450 F for 20 minutes. Then add mozzarella and our homemade marinara, and as Sam would say, "MONEY!!!"
It was delish!
In the oven
Out of the oven
What is that? Sam is helping? He refused to have anyone else do the bread.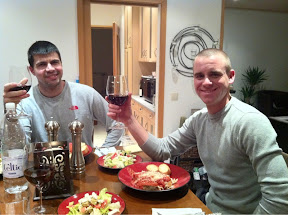 Enjoying dinner with Kendall Jackson Pinot Noir. Perfection!
- Posted using BlogPress from my iPhone