So yesterday I come home from a particularly stressful day, and guess what? I have three packages to open! One was from Sarah, and two from my dad (formal dresses for the ball next weekend).
I rip into the boxes, knowing what two of them contained, and looked at the dresses in disbelief. There was no way I was going to fit in to them! I hadn't worn the red one since Beauty and Beau my Senior year, and I was much smaller then.
After Matt insisted I give it a whirl, so I tried on the red dress. With a bit of sucking in, it fit! I was so excited, because I've been religious about journaling my diet, and it's helped me lose the weight I've gained since the wedding. And it has paid off!
Thanks dad! And I promise I won't wear my monkey slippers to the ball. Now to track down a spray tan!!
Then I ripped into the package from Sarah! Each goody included a special note, which I loved! It's crazy how well she knows me, because everything she sent was something I would have picked out. Down to the organic hemp doggy toy for Petunia!
The spread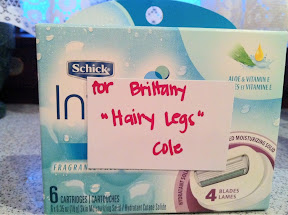 It's impossible to find Intuition razors here. Something Matt was so happy to see! Haha.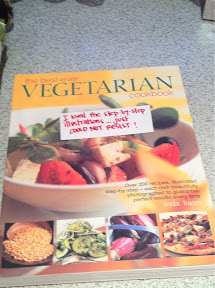 Sarah has the best taste in cookbooks! This is going to be a bread addition to the Greek and Baking books she sent in Virginia
This is awesome! It's a tumbler, so it doesn't sweat. And I can reuse it so there is no waste, which means a happy mother Earth :)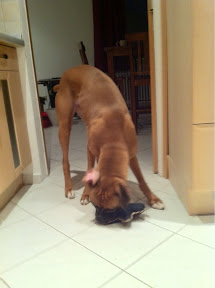 Patton playing with his doll. No kidding, I say "go get your doll" and he comes back with it. He is in love!
So thanks dad, and danke schoen Sarah!!! You made my day!!
- Posted using BlogPress from my iPhone