Last night we had our first Skype date with Mama Matson. We were all so excited, as you can see from this picture:
Gotta love her!
Also, yesterday I bought "Appetite for Reduction", a stellar find for the PX, seeing as they seemingly only carry romantic novels and "books" by Bill O'Riley and Glenn Beck :)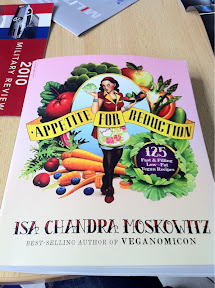 But yes, I was stoked to say the least. "Appetite for Reduction", by my new favorite author, Isa Chandra Moskowitz, is phenomenal. It is composed of vegan recipes, as well as tips to making the best of your kind diet. She is freaking hilarious, and I can't wait to purchase her other books, "Veganomicon", "Vegan with a Vengance", and wait for it - "VEGAN CUPCAKES TAKE OVER THE WORLD"!!!!!!!!
A smidge excited about that last one, to say the least.
But seriously, I'm almost done with this one, and thus, my love affair with Amazon continues.
Oh, and it's Valentine's Day, YIPPIE! Matt and I have decided to do VDay sans presents this year. A year ago I would have been begging for a gift, but I had a bit of an awakening this year and it seems kinda silly. I mean, why should we show our love with gifts one day a year? If there's anything that doesn't scream love to me, it's chocolates that will result in larger thighs. Ew!
So instead we're writing a letter to the other, awwwww. I can honestly say I can't wait to read mine, which I can assure you is not yet written. But the fact he can make me weep like a child with only 5 minutes worth of manifesting his love for me in written form...that's pretty spectacular.
And to be cheesy, yet serious, I suppose the greatest gift I could have on this day is Matt. He has shown me what unconditional love is and is the absolute light of my life. Love you MBC!!
Have a fantasia day!
- Posted using BlogPress from my iPhone