This week we are trying several new recipes!! I'm so excited. Last night it was Asian. We made a nice little stir fry with rice noodles. Yumsies!
Afterwards I enjoyed my nightly ritual, a cup of tea (green, in honor of Asian night).
Tea has become my most favorite treat! It substitutes as dessert and warms ya up! Though my absolute favorite tea isn't available here, I did find a little Tee Haus downtown that has helped me branch out.
Digestive and Green teas along with a spicy Apple Cider by Bigelow.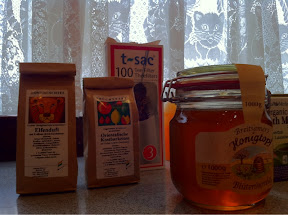 Fruit and Honeybush teas from the Tee Haus. And don't forget a lot of honig!
- Posted using BlogPress from my iPhone